Office Recycling 101: Shrink the Trash Receptacle
What is a relatively easy and effective way to increase recycling behavior in an office workplace? Institute a "Little Trash" system. A recent Action Research study indicates that when office workers are provided with a standard size desk-side recycle bin coupled with a comparatively smaller "sidecar" trash receptacle, their recyclables flow to the space available, migrating from trash to recycle bin.
Action Research undertook this research study in 34 multi-office buildings in Atlanta, Boston, Houston, and San Diego in collaboration with Keep America Beautiful, PepsiCo Recycling, and CBRE. The work was done as part of Keep America Beautiful' s larger "Recycling at Work" project aimed to improve workplace recycling practices.  To conduct the study, Action Research recruited offices with existing single stream recycling within CBRE office buildings in the four cities. All participating office workers received descriptive lists of appropriate items to place in recycle and trash bins. (A control group received only the descriptive lists.)
Three experimental desk-side recycling systems were tested over six months:
-A "Little Trash" condition in which employees were furnished with this dynamic duo: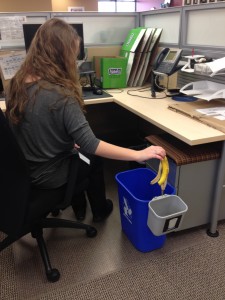 -An "Equal Size Bin"condition: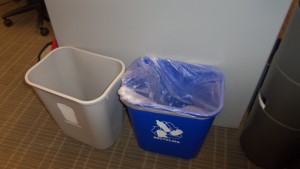 -A "Recycle Bin Only"condition: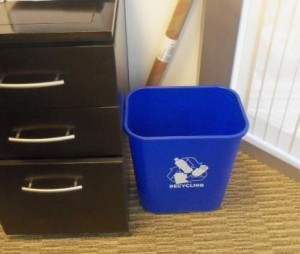 To assess the impact of each system pilot on office worker recycling, the Action Research team conducted surveys plus multiple waste audits and volume assessments in all participating offices. The "Little Trash" system produced the greatest improvement in workplace recycling, significantly more than the two other tested approaches.
To download the full case study, click here:  Workplace-Recycling-Research_KAB_2015